1000 m Tall Jeddah Tower: Vertical Shortening Considerations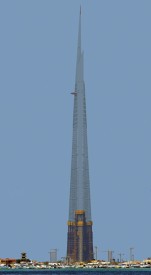 Jeddah Tower will be the first man-made structure to reach a kilometer in height upon its completion in 2019. From conception, it was clear that an all-concrete superstructure would present many advantages for a building of such unprecedented height and slenderness. An all-concrete structure, however, did present many challenges that needed to be addressed in the system arrangement and through comprehensive analysis and design, among them vertical shortening effects due to the time-dependent creep and shrinkage of concrete. This paper outlines and presents the engineering solutions developed by the authors regarding this complex concrete material phenomenon, while addressing the construction and regional challenges associated with realizing a concrete tower of this unprecedented scale.
INTRODUCTION
The origin of the Jeddah Tower project was the aspiration of HRH Prince Alwaleed bin Talal to construct the tallest building in the world, which would serve as a symbol for the country and for the world in Jeddah, Saudi Arabia. Jeddah Tower is a catalyst and also the anchor to future regional development in the northern portion of Jeddah. Thornton Tomasetti (TT) was a partner in the Adrian Smith + Gordon Gill Architecture team during the project's competition phase, who were awarded the project in 2009 (Sinn 2016).
Full content of this issue you can read here
The full version of the article can be read in our printed issue, also you can subscribe to the web-version of the magazine

Materials provided by THORNTON TOMASETTI, INC.
TEXT: John Peronto, Associate Principal, SE, PE, SECB, LEED AP, Thornton Tomasetti, Inc.; Robert Sinn, Principal, SE, PE, FACI, FASCE, FIABSE, Thornton Tomasetti, Inc.; Matthew Huizinga, Associate, SE, PE, LEED AP, Thornton Tomasetti, Inc.