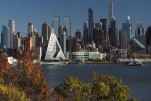 (Issue of a magazine 3/2016, page 84)
The Council on Tall Buildings and Urban Habitat (CTBUH) has announced the winners and finalists for the CTBUH 2016 Tall Building Awards. This year saw some of the most forward-looking entries, with 132 submissions vying for recognition.
The CTBUH Tall Building Awards are an independent review of new projects, judged by a prestigious panel of experts. The Awards aspire to provide a more comprehensive and sophisticated view of these important structures, while advocating for improvements in every aspect of performance, including those that have the greatest positive impact on the individuals who use these buildings and the cities they inhabit. This year's winners and finalists have set a new bar for the annual awards program, with many employing inventive solutions that respond to demanding site constraints and prerogatives related to sustainability, seismicity, wind forces, mixed functionality, and a vibrant urban habitat. Others achieve unrivaled iconicity, while introducing groundbreaking structural solutions and spatial arrangements at height.