Best Skyscrapers 2016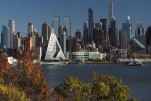 The Council on Tall Buildings and Urban Habitat (CTBUH) has announced the winners and finalists for the CTBUH 2016 Tall Building Awards. This year saw some of the most forward-looking entries, with 132 submissions vying for recognition.
The CTBUH Tall Building Awards are an independent review of new projects, judged by a prestigious panel of experts. The Awards aspire to provide a more comprehensive and sophisticated view of these important structures, while advocating for improvements in every aspect of performance, including those that have the greatest positive impact on the individuals who use these buildings and the cities they inhabit. This year's winners and finalists have set a new bar for the annual awards program, with many employing inventive solutions that respond to demanding site constraints and prerogatives related to sustainability, seismicity, wind forces, mixed functionality, and a vibrant urban habitat. Others achieve unrivaled iconicity, while introducing groundbreaking structural solutions and spatial arrangements at height.
Award recipients have been recognized across five categories: Best Tall Building Awards – Regional (Americas, Asia & Australasia, Europe, and Middle East & Africa), Urban Habitat Award, Innovation Award, Performance Award, and 10 Year Award. Additionally, the Council awards two Lifetime Achievements awards. The recipients of the Lynn S. Beedle Lifetime Achievement Award and the Fazlur R. Khan Lifetime Achievement Medal will be announced at a later date.
All award winners will be recognized at the CTBUH 15th Annual Awards Symposium, which will take place at the Illinois Institute of Technology, Chicago, on November 3. The symposium will be followed by the Awards Ceremony & Dinner in the iconic Crown Hall. At the event, the four regional Best Tall Building winners will compete for the title of Best Tall Building Worldwide, as determined by the Awards Jury on the night.
This category recognizes projects that have made extraordinary contributions to the advancement of tall buildings and the urban environment, and that achieve sustainability at the highest and broadest level. The winning projects exhibit processes and innovations that have added to the profession of design and enhance the cities and the lives of their inhabitants. The Best Tall Buildings have been named for each of four competing regions in the world, from nominees representing a total of 27 countries. Twelve finalists are also recognized as exemplary projects that were among the top candidates under consideration for winner status in each category.
Full content of this issue you can read here
The full version of the article can be read in our printed issue, also you can subscribe to the web-version of the magazine

Materials provided by CTBUH