Best Skyscrapers 2018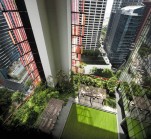 The Council on Tall Buildings and Urban Habitat (CTBUH) has announced the winners of the 16th Annual CTBUH Awards Program, which competed for winning distinctions at the 2018 Tall + Urban Innovation Conference from May 30-31 at Aqua Tower in Chicago. The CTBUH Awards Jury has named Oasia Hotel Downtown the "Best Tall Building Worldwide", in addition to recognizing the winners of nine individual award categories.
The CTBUH Tall Building Awards are an independent review of new proj­ects, judged by a prestigious panel of experts. The Awards aspire to provide a more comprehensive and sophisticated view of these impor­tant structures, while advocating for improvements in every aspect of per­formance, including those that have the greatest positive impact on the individuals who use these buildings and the cities they inhabit.
In addition to the regional and over­all Best Tall Building winners, a num­ber of other award recipients were recognized at the conference, includ­ing the World Trade Center Master Plan for the Urban Habitat Award; MULTI for the Innovation Award; The EY Centre for the Construction Award; New York Times Tower for the 10 Year Award (2007 Completions); and Shanghai World Financial Center for the 10 Year Award (2008 Completions). In all, the 10 awards winners were chosen from a group of 48 Finalist projects representing 28 countries.
Full content of this issue you can read here
The full version of the article can be read in our printed issue, also you can subscribe to the web-version of the magazine

Materials provided by CTBUH