Best Tall Building Worldwide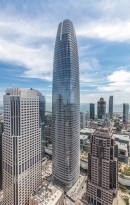 Pelli Clarke Pelli Architects' Salesforce Tower has won the top prize at the Council on Tall Buildings and Urban Habitat's annual awards for high-rise structures, beating competition from BIG and David Chipperfield. Salesforce Tower was selected ahead of a number of high-profile projects nominated across the programme categories to receive the highest accolade, despite of controversies surrounding the building since its completion in 2018, including criticisms of its construction and its vastness.
Tall buildings expert Council on Tall Buildings and Urban Habitat (CTBUH) gave the 1,070-feet-high (326-metre-high) tower "Best Tall Building Worldwide" in its 2019 architecture awards.
The 61-storey Salesforce Tower – and San Francisco's tallest structure – forms the headquarters of cloud computing company Salesforce, and connects to the city's new transport hub, and a 5.4-acre park on its roof where high-speed elevators take visitors in just 39 seconds. The construction of this magnificent building began in 2013. The original version of the project, when the building was still called Transbay Tower, provided for a height of 370 m (1200 ft), but subsequently it was decided to reduce the height by 50 meters. Despite a significant decline, now in clear weather visibility from the top of the Salesforce Tower is 30 miles (48 km).
One of the challenges of the tower construction was its proximity to water - on the promenade of San Francisco, an area notorious for earthquake liquefaction of soil. The project creators took into account liquefaction hazards when designing the tower foundation which can withstand the most powerful earthquakes in the region. Its substructure includes reinforced concrete raft of 4.3m (14 ft) and 42 piles extending to a depth of almost 91 meters (300 feet) to the bedrock.
CTBUH celebrated it for its "multi-pronged focus on occupant health, sustainability, structural efficiency, and a significant level of integration with the surrounding urban habitat."
CTBUH