Eric Parry's 'Calm' Tower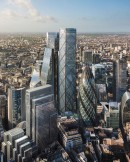 The latest skyscraper planned for the City of London is set to become the tallest in the square mile as approval is granted
Eric Parry's 1 Undershaft, the skyscraper planned for the City of London financial district has been given the greenlight. The scheme has been developed by Aroland Holdings and designed by Eric Parry Architects and is set to replace the St Helen's tower. Upon completion, it will become the second tallest skyscraper in London and the United Kingdom.
Commenting on the project Eric Parry has said, "I wanted to do something calm. It is the last piece in the jigsaw, so I wanted to do something that isn't flamboyant." The tower will take its place amongst a range of striking high profile buildings including the Gherkin and the Cheesegrater.
The 73-storey development will rise to a height of 304.94m AOD (Above Ordnance Datum), crowning the new cluster of planned skyscrapers in the square mile.
The building will provide approximately 90,000 sq m of office space. The offset design of the core and the rigidity provided by the unique external bracing means floor space has been maximized providing much needed flexible, quality office accommodation for businesses in the City of London.
A new larger public square will be created at the base of the tower. The elevated office reception lobby means that the public will be able to walk freely beneath the skyscraper. Retail space will be created in the lower level retail gallery, with new restaurants, cafés, and shops accessed from the public square.
At the top of the building will be the UK's highest public viewing gallery, served by dedicated lifts. A public restaurant will be located on the level beneath the viewing gallery.
Eric Parry Architects