Frankfurt for All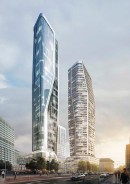 UNStudio has been selected as the winners of an international competition to design a new mixed-use development on the site of the former Deutsche Bank offices in Frankfurt, Germany. Selected to complete the urban strategy for the district last March, UNStudio has now been unanimously selected to carry out the architectural redevelopment of the site, beating out third prize proposals from the teams of Dudler / Jahn and MSW / Snøhetta, and an honorable mention from Christoph Mäckler / CoopHimmelblau.
The eight-member jury, consisting of city representatives, architects, and urban development experts Groß & Partner Grundstücksentwicklungsgesellschaft mbH, commended UNStudio's scheme for its strong silhouette and the arrangement of the four towers to create strong connections to the existing network of inner city routes.
The new mixed-use development will consist of four high-rise towers ascending from a multi-story plinth in the heart of the city. The project includes space for retail, restaurants and hotels, as well as a full range of residential accommodation. The four towers, rising up to 228 meters (748 feet) high, will serve as a new landmark on the Frankfurt skyline.
Previously restricted from public access, the redevelopment will allow visitors to the site for the first time in more than 45 years. The full district masterplan is estimated to accommodate 3,000 workers and 1,000 residents. In addition to the residential and office spaces, the complex will feature retail, catering, and playground and adventure areas for children
Construction on the project is expected to begin later this year, with the first building slated to open in 2021.
UNStudio