Future Energy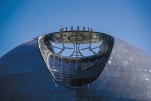 Adrian Smith + Gordon Gill Architecture (AS+GG) won an international competition to design the master plan and multiple buildings for EXPO-2017. The spherical-shaped Kazakhstan Pavilion and Science Museum was developed as a way to accomplish the client's goals of a spherical-shaped building, while enabling AS+GG to push the design forward to meet the firm's programmatic and sustainability goals.
The Kazakhstan Pavilion and Science Museum is the iconic, high-performing centerpiece of EXPO-2017, the site of this year's international exposition, which runs from June 10-September 10. Inspired by the EXPO-2017 theme, "Future Energy," the Kazakhstan Pavilion and Science Museum embodies a futuristic design that is optimized to incorporate sustainable philosophies.
Located south of Bayterek Tower and east of Nazarbayev University, the Kazakhstan Pavilion and Science Museum is the centerpiece of EXPO-2017 and is positioned to become a significant new landmark for Astana. The theme of the expo that surrounds it, "Future Energy," reflects a broader community interest with the problem of energy consumption, which is having an increasingly negative impact on our planet. The main objective of the exposition was to engage people in a call for responsibility, one that fosters a discussion and works to develop a knowledge that will enable people to plan and control energy consumption on our planet and to minimize damage to the environment. The sphere consists of 8 themed layers and its gross floor area is about 5000 m2.
Full content of this issue you can read here
The full version of the article can be read in our printed issue, also you can subscribe to the web-version of the magazine

Materials provided byADRIAN SMITH + GORDON GILL ARCHITECTURE
Photography: © NICK MELNICHENKO, PAUL RAFTERY