Gentrification in Modern Urban Planning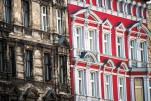 Gentrification and high-rise construction are the most controversial and high-profile tools of modern urban studies. Each several of these concepts is necessarily associated with considering numerous heterogeneous factors of a city existence that are essential for any serious changing of the environment. The present understanding of the term "high-rise construction" across the globe in relation to urban planning and socio-cultural development has been dwelled upon in detail on the pages of our magazine for more than 10 years. TAnd as for the term "gentrification" and the way this concept relates to the emergence of new high-rise buildings, requires some clarification remarks.
The term "gentrification" originates from the English word "gentry", which literally means "the upper class". For the English society of the Modern Era it is important that the term refers to the untitled nobility fundamentally incompatible with the concept of "aristocracy". What is the difference and why is it important? Gentry mean people of noble origin, but middle-income, settled in small estates or in urban homes of comfort level sufficient for its time. A list of requirements was subsequently developed based on the desires of this population group with respect to a reasonably high, but not excessively luxurious nature of a city house improvement. The requirements in their turn have formed a certain ideal image of a "properly arranged" city or its fragment. In the mid-1960s, this logic of marking landmarks to improve the degraded urban environment of American and Western European cities made gentrification a fashionable urban term.
Today, the common synonym for "gentrification" is "improvement" of the urban environment, usually referring to the originally poor and low-status areas. The Oxford dictionary defines "gentrification" as the renovation or improvement of an individual building, a fragment of the urban environment in accordance with the tastes of the middle class.
Full content of this issue you can read here
The full version of the article can be read in our printed issue, also you can subscribe to the web-version of the magazine

Text by Marianna Maevskaya, Research Associate in the Scientific Research Institute of Theory and History of Architecture and Urban Planning (NIITIAG)