LA Olympic Tower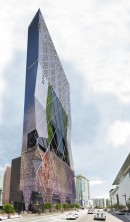 This March the Downtown Los Angeles Neighborhood Council's Planning and Land Use Committee (DLANC) reviewed plans for Olympic Tower - a skyline-altering development slated for the current home of the neighborhood's most notorious car wash. The structure of 740 feet in height would become the city's sixth tallest building.
Located in one of the most prominent and visible corners of Downtown Los Angeles Olympic Tower will house a variety of uses compatible with the existing urban environment.
According to architectural plans from Nardi Associates LLP, the tower will feature a total of 374 residential units, 373 hotel rooms, nearly 33,500 square feet of offices, a 10,800-square-foot conference center and approximately 65,000 square feet of commercial space.
Starting at the tower's foundation, plans call for a 14-level parking garage, including six subterranean levels and eight above-grade levels along the northern edge of the property. In total, the garage would accommodate approximately 1,000 automobiles and over 500 bicycles.
The 58 story iconic building is designed as a monumental urban tree (vertical gardens integrated to a kaleidoscope like landmark) where real vegetation is combined with digitized landscape and graphic art images, growing along its structural grid contained within its double glass surfaces.
The design of the tower calls for a variety of exterior materials, including plaster, glass and metal cladding. A diamond pattern exoskeleton, clad with LED lights and photovoltaic panels, will wrap the lower portion of the building. Upper levels would include the unique design element of green walls built into the tower's exoskeleton.
The building design recognizes its adjacency to the Historic Figueroa Hotel by detaching the tower above the hotel roof level, and the Olympic Tower Figueroa Street's facade is designed in more sensitive scale, addressing the first levels of the tower to be more compatible to the scale of the hotel architecture lower levels.
According to the latest information, the tower will be commissioned by 2020
Nardi Associates LLP