Manila`s Amenities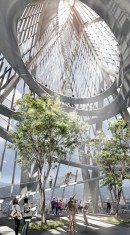 Henning Larsen Architects, in collaboration with landscape architects SLA and BuroHappold Engineering, has been selected as the winners of an international design competition to design a new iconic skyscraper for the city of Manila, Philippines. Located within the Bonifacio Global City business district, ICONE Tower raises from a large public plaza as a dramatic spire, piercing the sky and becoming a new icon for the Manila Skyline.
The 308-meter-tall tower is envisioned in the tradition of iconic buildings from around the world, but pays special attention not to neglect the user experience and impact on the public realm. From the large vegetated plaza outside, to the state of the arts workspaces, restaurants, exhibition spaces and public observatory within, the building ensures a memorable experience inside and out.
Greenery has been integrated into all areas of the complex, including the dense canopy of tall trees in the plaza to provide shade for outdoor events and green terraces and atriums all the way up the tower. These design decisions help to reinforce the building's evolution from traditional Filipino architecture.
Henning Larsen Architects