Marvel of Technology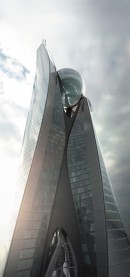 This summer's blockbuster movie Skyscraper centers on a fictional megatall tower that is intended to be as realistic as possible, according to architect Adrian Smith, who was consulted during its development.
Drama in the action-adventure film – released in the US tomorrow, 13 July 2018 – revolves around an imaginary 240-storey skyscraper in Hong Kong, called The Pearl, which catches on fire.
Smith's portfolio of skyscrapers includes the 828-metre-tall Burj Khalifa in Dubai – designed while at SOM – which currently holds the title of world's tallest tower. This is set to be surpassed by his firm's Jeddah Tower in Saudi Arabia, which is under construction and set to rise over 1,000 meters once complete.
To help Skyscraper's director and writers, Smith provided information about these projects and others for them to reference when creating the story around The Pearl.
The resulting skyscraper, created by production designer Jim Bissell and his team, comprises glass and steel forms that twist upwards to cradle a sphere at the top, from which it takes its name. Reaching 1,066 meters high, it would be categorized as megatall – over 600 meters – and would overtake both the Burj Khalifa and Jeddah Tower if it was to be built.
The Pearl is described as "a marvel of technology and architectural design" in the movie. The story goes that it took seven years to construct, weighs one million tons, and comprises 120,000 glass and steel panels.
As well as with reaching an impressive height, The Pearl is intended to be extremely safe. Key features are outlined as "pressurized safe rooms with reinforced fireproof concrete every 10th floor", and wind- and earthquake-resistant elements.
Smith stressed that while adhering to real possibilities, building a skyscraper like this and meeting safety requirements in real life would be a major undertaking, particularly in terms of engineering, which he describes as "critical".
Skyscraper's plot follows others that capitalize on concerns around the safety of high-rises. The 1976 disaster film The Towering Inferno similarly involved the world's tallest tower catching alight, while the hit 1988 action movie Die Hard centers on a high-rise seized by terrorists.
Events in both these films have echoes in real-life tragedies involving high-rises that have occurred during the 21st century, including the terrorist attacks on New York's Twin Towers in 2001, and the Grenfell Tower fire in London last year.
AS+GG