New Format of Franch Justice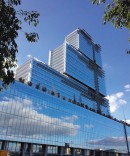 Work has completed on Tribunal de Paris – a tiered skyscraper, designed by Italian architect Renzo Piano to become the largest law complex in Europe. It is not set to open until April 2018, but these photographs by Paris-based photographer Sergio Grazia show that the building's structure is now complete.
Renzo Piano Building Workshop won a competition to design Tribunal de Paris in 2010. The building's stacked volumes decrease in size towards the top – an approach that the architects took to reduce the visual impact of the building on the skyline.
The long and low ground building is designed as a pedestal for the other three levels to rest upon.
Its location in the Clichy-Batignolles urban development zone, on Paris' northern edge, places it at the intersection between the city's administrative zones and the suburbs. The area is well served by public transport, including a new tramway. The main entrance located on a 6,000-square-metre plaza on the Avenue de la Porte-de-Clichy.
Comprising a series of stacked glass volumes, the building will bring together the various activities of the French capital's judiciary system, which had previously been scattered about the city. Each volume is only 35 meters deep, in order to allow natural light to easily reach the core.
Inside, the 5,500 square-meter space is divided into three atria with room for 50 reception desks to ensure visitors are seen as quickly as possible.
Each atrium extends up through the full height of the building, with galleries providing access to rooms above and skylights in the roof to allow natural light to filter through. A dorsal fin runs up the side of the glazed facade, housing two exterior glass lifts.
A total of 90 law courts are housed in the pedestal building, most of which benefit from natural light and are all accessible within minutes from the offices in the volumes above. The first volume will house the magistrates, the second the public prosecutors, and at the top the presiding judges will occupy the third volume. The Tribunal de Paris will unite the regional court, police court, public prosecution courts and the district courts of each arrondissement. The buildings above each contain 10 storeys of meeting rooms and offices for different departments.
RPBW said the building will set "a new benchmark for energy consumption in a very tall building". Each building is separated by landscaped roof terraces planted with trees and vegetation. Solar panels have been attached to the exterior and rainwater is collected. Natural ventilation and the building's thermal inertia contribute to regulating the building's temperature.
Renzo Piano is also the architect behind the Shard, a 310-metre tall triangular skyscraper in London Bridge, and recently revealed designs for a 224-metre cylindrical tower in London's Paddington area.
Renzo Piano Building Workshop