New Heights of Nairobi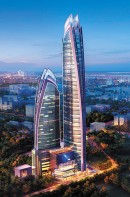 Real estate developers Jabavu Village Limited and White Lotus Projects are the names behind plans to build Nairobi's tallest building, which will be the new home of the city's third Hilton Hotel. The Sh11 billion (USD$109 million) dual-tower development, whose construction is set to begin in Nairobi's Upper Hill, is scheduled to be completed by 2020.
Developers of the property were thrown into the limelight earlier in the week when Hilton Worldwide announced that it would be setting up a hotel in the development.
When complete, Hass Towers will be one of the largest and most modern properties in Nairobi's Upper Hill area and is expected to reaffirm Nairobi's position as Africa's prime real estate investment city. The 66- and 45-story towers are set on a three-acre (1.2-hectare) plot and will dwarf other buildings in Nairobi, including the recently topped-out UAP Towers. If completed today, the 300-meter Hass I would also be the tallest building in Africa.
The 255-room hotel will be located in the shorter of the two towers while the taller structure will be an office block. The mixed use development further comprises a business hub and a four-level basement parking facility with automated car parking solutions. It will also house a four-story retail and entertainment segment with a central atrium on which the hotel will be built.
Hilton hopes to tap into the large number of local and international visitors to Upper Hill area, which has rapidly evolved into Nairobi's business hub and the preferred location for diplomatic missions. "The property will pierce the skyline of Upper Hill and will be well placed to meet the growing demand for quality living in one of Nairobi's most exciting locations," said Patrick Fitzgibbon, senior vice president, development, EMEA, Hilton Worldwide.
"Site excavation was 80 per cent complete as of October 5 and will pave the way for subsequent works. The project cost is pending the contract award to the General Contractor," White Lotus said in a statement.
MEINHARDT GROUP