New Map of Tirana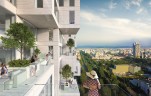 Tirana - the capital of Albania, is known for a mixture of Ottoman, German and Soviet architecture. Just recently, from a visit to the Albanian capital with its gloomy, dilapidated houses, one could experience a shock, but everything has changed in a fantastically short time. Since 2000, the municipal government has launched the "Return to Identity" program, which includes upgrading the infrastructure and updating the rather dull post-Soviet appearance of Tirana. The residential districts were given a completely modern look, the wastelands between the houses underwent redevelopment, the illegal buildings were demolished, and in their place gardens and parks were planted. The city has undergone radical changes. Today, Tirana is a modern, dynamically developing city with high-rise buildings and manicured parks and public spaces.
Due to the long political isolation of this small Balkan country, most people tend to have a rather faint idea of Albania. This republic with a population of about 2.9 million inhabitants is located in the western Balkans, along the coast of the Adriatic and Ionian Seas. A mixture of styles has long been present in the architecture of the capital of the country. Before the proclamation of Tirana as the capital in 1920, it was a small Muslim town that has not changed much since its foundation by Suleiman Pasha in 1614.
In the 1920s and 1930s, the new authorities began to rebuild the city in a European style, inviting Austrian and Italian architects. During the occupation of Tirana by fascists, Italian architects completed the construction of government buildings and paved new streets, and after the end of the war the city was built up based on the tastes of the communists who came to power. Albania is one of the rare countries where the totalitarian regime was brought to the point of absurdity, which made the country a European outsider for half a century. Since the country was constantly preparing for war, the only steadily built facilities were concrete bunkers, which were over 700 thousand! One per four residents of the country.
Nowadays, almost 30 years after the fall of the communist regime, Albania has practically got rid of the image of a totalitarian state and is no longer an embodiment of backwardness and devastation.
Full content of this issue you can read here
The full version of the article can be read in our printed issue, also you can subscribe to the web-version of the magazine

Materials provided by MVRDV