Norwegian outlook on Beirut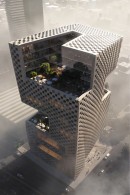 Six months after the launch of its international architecture competition to build its new headquarters at the Northern main entrance of Beirut, and at the end of a rigorous and innovative selection process, Banque Libano-Française (BLF) announced the selection of the Norwegian-American studio Snøhetta.
"The Bank and the jury had the chance, but also the difficult task, to choose among 3 beautiful projects conceived by prestigious, passionate and committed architects who were fascinated by Beirut and its contradictions," says Raya Raphaël Nahas, BLF General Manager. Snøhetta's 'Magic Box' stood out among the three fantastic projects…
With its flexible and interconnected interior wide spaces capable of coping with the Bank's future evolution, of stimulating synergies, enhancing productivity and innovation among its young and dynamic workforce, but also with its eco-friendly approach showcased in the sustainable development and public spaces open to Mar Mikhael's neighboring community, Snøhetta's project was a perfect fit to the BLF design brief and its objective to create a space "not to work more, but to work better", explained Raya Raphaël Nahas who added: "Our ambition through this competition was to find the architect who is capable of embodying this will and rethinking our workplace while breaking the conventional codes of private construction in Lebanon, to integrate public spaces within the building without compromising its security, and taking into account the digital evolution and new collaborative methods at work. Snøhetta's philosophy about collaborative spaces and new work methods, have seduced and convinced us. We have decided that the team shares our values, our attention to detail as well as our respect of the environment, the community and the historical legacy of Beirut…"
"A client like BLF brings out the best in us!" explained the founder and partner of Snøhetta, Kjetil Trædal Thorsen, upon announcing the results. "A city like Beirut challenges the definition of urban typologies and the contradictory architectural interpretations. A site like this captures the relationship between the different parts of Beirut, the Mediterranean Sea and the mountains. The project responds to these conditions". The project reveals an extraordinary architecture, a stone veneer, multiple connections with the outside, large cuts and modular openings overlooking a 360-degree view, even a symbolic interpretation of Mar Mikhael stairway… Elements that will turn, without a doubt, the new headquarters into an inevitable urban landmark harmoniously blended in with its environment.
Snøhetta