Philadelphia's High-Level Leader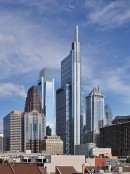 British celebrated firm Foster + Partners recently completed work on a new supertall skyscraper in Philadelphia. Named the Comcast Technology Center, the 60-storey building rises to a height of 341 m (1,118 ft), making it one of the tallest buildings in the United StatesIt's the 9th tallest building in the United States and the tallest outside of New York City and Chicago.
Inside, the high-rises have a diverse mix of functions including open and airy workspaces and television studios, the 12-story Four Seasons Hotel, a swimming pool, shops, bars and restaurants that are open to the public, site-specific artwork, and the unique the planetarium-style installation Universal Sphere with a 360-degree dome cinema experience created by Stephen Spielberg.
Some six years in the making, the Comcast Technology Center also involved Thornton Tomasetti, Gensler and Kendall Heaton Associates. State-of-the-art skyscraper has a stepped design and sports a glazed exterior with aluminum and stainless steel.
The building has a set of five tuned sloshing dampers containing 125,000 gallons of water and located in the ceiling of the 57th floor, beneath the hotel lobby. The moving water is a counteracting force on windy days to reduce swaying of the upper part of the tower. A-shaped steel braces are embedded between hotel rooms on the east and west sides, to stiffen the upper part of the building against strong, prevailing winds.
A large glass podium has been created at the base of the building, conveniently linked to the line of the city metro, which reduces the need for personal cars and parking spaces. The building was partly built with recycled materials and due to the water saving measures it uses 41 percent less water than a typical office building. All these significant steps have been taken to reduce its energy use and it's slated to receive LEED Platinum.
Foster + Partners