Qiantang River Living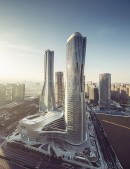 Designed by Ben van Berkel / UNStudio, CapitaLand's new Raffles City is a sustainable urban hub for living, working and leisure located in Hangzhou, one of China's most picturesque cities. It forms the eighth Raffles City development in China. Situated in Qianjiang New Town near Qiantang River, this mixed-use development becomes a major landmark along the green axis of the city's new CBD. A rich mix of 24/7 functions occupies almost 400,000m2 within two streamlined towers set atop a podium and landscaped plaza.
While the city's heritage focuses on the picturesque UNESCO heritage-listed West Lake, its future points to a new economic, political and cultural center orientated towards the river.
Conceived as a lively vertical neighborhood and transit hub and featuring stunning views of the river and West Lake areas, the sixty-storey, 250 meter-tall high-rises contain residential units, Grade A offices, the Conrad Hotel and a rooftop helipad; the 116,000m2 six-storey podium accommodates retail, restaurants, leisure facilities and parking and has a direct underground connection to the metro.
The project furthers the practice's ongoing research into Superliving, in this case into (integral) strategies to create sustainable, healthy cities that offer a high quality of life, while addressing future needs for greater efficiency and density in cities in times of rapid urbanization and growth.
The building is designed with a carefully considered mix of programs - like those found in a good city - that bring together a wide range of users. As such it not only provides residents and those working or staying in the complex with a healthy and socially integrated environment, it also ensures that programs are active around the clock, creating a safe and lively neighborhood for all.
The design of the tower and podium facades interplay contrasting textures. Clad in a shimmering scale-like skin of aluminum tiles, the podium facades reflect the building's activity and landscape to offer pixelated perspectives. The towers feature an outer layer of rotated, vertical solar shading fins, placed atop the curtain wall system. Accentuating the tower's characteristic twist, they also frame internal views.
Raffles City Hangzhou has achieved Gold LEED certification. An inclusive approach to sustainability is integral to UNStudio's design philosophy. The incorporation of natural ventilation, solar gain and daylighting principles tailored to the local context, efficient structure and the ways in which materials are employed all work in concordance with one another to lower the energy and material demands of the building. Raffles City Hangzhou is the first retail mall in China to use natural ventilation on a large scale.
With social sustainability in mind, the program mix creates a dynamic, continuous 24/7 cycle of activity that encourages public participation and engagement.
UNStudio