Recent Launch Of Melbourne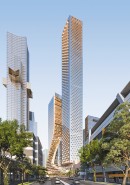 A prominent shortlist including BIG, OMA, and UNStudio have revealed their visions for Melbourne's landmark Southbank Precinct overhaul. The $2 billion project will be the largest single-phase project in the history of Victoria, Australia, intended as "a state-of-the-art, mixed-use environment" to be "centered on innovation in architecture and design."
The six shortlisted schemes include twisting towers, interlocking blocks, and stacked neighborhoods, all focusing on the 6,000-square-meter BMW Southbank site. The designs were revealed at a public symposium on July 27th featuring speakers from the shortlisted firms.
The winning scheme will contain a mix of retail, hotel, residential, commercial, cultural, and public functions, to be developed by Melbourne property specialists Beulah International. The six teams vying for the role have developed their visions over the past six months, having been shortlisted in April.
The winning scheme was announced in August.
«The Lanescraper» (Bjarke Ingels Group/ Fender Katsalidis Architects) features two blocks, interlocking to provide connectivity and structural rigidity, with the spaces between forming a series of laneways. Reaching a height of almost 360 meters, the scheme features a range of residential, retail and cultural amenities including offices, serviced apartments, and a library.
«The Beulah Propeller City» (Coop Himmelb(l)au / Architectus) is a 335-meter-high vertical city divided between four functions: public podium, office, hotel, and apartment tower. The scheme features 18 floors of mixed-use retail and public space, including exhibition spaces, cinemas, and recording studios. A 15-floor hotel features a winter garden terrace, complete with a pool, and a tropical rainforest character.
«Urban Tree» (MAD Architects Architects/ Elenberg Frazer) features small, green foothills leading to a "mountain village" including a children's playground, public artwork, and a water feature. Above, 43 residential floors and 24 hotel floors are contained in a 360-meter-high tower. The scheme also contains a 1,200-capacity auditorium, 800-capacity concert hall, library, cinema, and office space.
«Stack» (MVRDV/Woods Bagot) is a 359-meter-high skyscraper comprising "stacked neighborhoods connected from the bottom to the top and vice versa by lifts, stairs, and escalators to create an interconnected vertical city." Each of the scheme's vertical bars contains a unique function, facade, and personality, ranging from openable facades at park levels to transparent facades in public retail areas.
The OMA and Conrad Gargett scheme emphasizes the base of the building, rather than its crown, drawing inspiration from historic Melbourne arcades and vaulted markets. The base is comprised of a 24/7 mixed-use vertical city, dominated by cultural, commercial, educational, and social elements, and traversed by large express escalators and laneways.
And, finally, the winning project - "Green Spine", developed for the competition by UnStudio in cooperation with one of the major architectural practices of Australia, Cox Architecture, consists of two towers with twisting geometries of glass facades and terracing. A residential tower soars to 356 meters, crowned by a publically-accessible Future Botanic Garden, while a hotel and office tower reaches 252 meters. Upon completion, the larger skyscraper of the complex will become the tallest building not only in Melbourne, also throughout the whole Australia.
Archdaily