Main
Management
Second Successful Year: 2019 Year in Tall Buildings Review
Second Successful Year: 2019 Year in Tall Buildings Review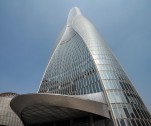 The year 2019 was remarkable for the tall building industry, as it saw 26 supertall buildings (300 meters or taller) completed, the most in any year. This is the second year in which this record was established, besting 18 supertalls in 2018. It was also the sixth year in a row that at least one 500-meter-plus building was completed. Overall, 126 buildings of at least 200 meters were completed in 2019, compared to 146 in 2018, a 13.7 percent decline. This is the first year in which the overall completion figure declined since the 2010 to 2011 gap, which was attributed to the lag effect of project cancellations due to the 2008 recession. The tallest building to complete in 2019 was the Tianjin CTF Finance Centre, at 530 meters. It is now tied for the fourth-tallest building in China with its sister tower, Guangzhou CTF Finance Centre (also 530 meters) and is the eighth tallest in the world. This marks the fifth year in a row in which the tallest building to complete is in China.
Key Worldwide Market Snapshots
The 126 completions figure was within the range predicted by CTBUH at the end of 2018 (120 to 150), albeit near the lower end. China completed 57 of these buildings, representing 45 percent of the total. This is also a decline from 2018, when 92 buildings representing 63 percent of the total were completed in China.
Asia (excluding the Middle East) overall contributed 87 of the 126 completions, for a 69 percent share; down from 110 completions for a 75.3 percent share of 2018's total (see Figure 3).
The United States was again the second-most prolific country, with 14 completions, for 11 percent of 2019's total. The number was equal to 2018's total, though the percentage represented was lower. North America represented 20 of the completions, or 15.9 percent of the world totals, compared to 16 of 2018's completion, or 10.8 percent.
Full content of this issue you can read here
The full version of the article can be read in our printed issue, also you can subscribe to the web-version of the magazine

Materials are courtesy of CTBUH