Shipwrecked in Prague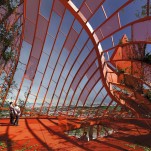 This year the Czech capital hosted a festival of architecture Open House Praha 2019. This endeavour is aimed to strengthen the bond between the inhabitants of the city and the place where they live, and to teach them to understand what a huge impact architecture can have on their lives. A vivid illustration of this message was the unique Top Tower project of the local architectural studio Black n´ Arch. According to the architects, the building, which will become one of the most recognizable in the world and the tallest in the Czech capital is designed to draw people's attention to global warming and its consequences. "Global warming - is a warning for the city," prevising the creators of the project.
Prague, the ancient capital of the Czech Republic is spread along both banks of the Vltava River and known as the City of a Hundred Spiers. Promenading in the streets of the city, one can see images of almost all architectural styles - from Romanesque and Gothic to modern and functionalism. But still the city sticks in the memory with its Gothic architecture, which makes the skyline of Prague a unique combination of horizontals and verticals.
Although today, the preservation of this unique panorama makes considerable complications for the growing city. In a recently published World Bank report evaluating various aspects of the convenience of 190 countries, the Czech Republic was in 157th place due to administrative obstacles to obtaining a building permit, due to the fact that the historical center of Prague is a UNESCO World Heritage Site and, accordingly, сlosed for the construction of high-rise buildings.
Nevertheless, Prague does not completely abandon high-rise construction, moreover, local developers and architects introduced a rather unexpected visual sign for this accient city, reflecting rather not the popular aesthetic trends of our time, but the legacy of the all-but-forgotten Avant-garde style.
Full content of this issue you can read here
The full version of the article can be read in our printed issue, also you can subscribe to the web-version of the magazine

Materials provided by Trigema