Tadawul Tower: Top-Liner of Financial District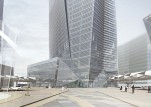 In the 21st century, the international financial exchange building is supposed to be memorable, modern and technologically innovative. The design of the Tadawul Tower, the building of the Saudi Stock Exchange was chosen for an elegant simplicity and impressive appearance, created by Nikken Sekkei architects. Fully meeting all the technical specifications and customer requirements, the recently completed headquarters of a large commercial organization significantly changed public views on the design standards for office buildings in the Middle East. Tadawul Tower represents an essential sample of integrating a multifunctional complex into existed environment of a large-scale business quarter.
Aiming to strengthen the position of Saudi Arabia as the financial capital of the Middle East, a large-scale business project for the construction of a large business quarter has been long developed and implemented in Riyadh. King Abdullah Financial District (KAFD) is designed as a state-of-the-art and fully self-contained centre for doing business and facilitating investment and enterprise in the Kingdom of Saudi Arabia and, in due course, in the wider region.
The significant architectural wonder of the world is in no way inferior to other world centers to the attractions of economic activity, such as the City of London, the La Defense district or the Shanghai Financial Center. According to the official master plan, it is planned to build an ensemble of many office buildings with an area of more than 3 million square meters in the territory of the capital of Saudi Arabia, prepare residential spaces for more than 12,000 residents and create 62,000 parking spaces. The construction of the first buildings began back in 2006, and already in 2011, this ambitious project became the largest facility in the world applying for accreditation under the LEED certification system for green buildings.
Each piece of the future quarter, whether it be a whole high-rise building, an element of landscaping or infrastructure, was developed in accordance with the highest international standards and is a self-contained work of architectural art. That's why it was decided to build a new headquarters of the stock exchange in this territory, which will contribute to the economic development of the region and raise the country's competitiveness in the international arena to a higher level. Large financial institutions will be located in the corporate office, for which they will attract a wide variety of employees including accountants, auditors, lawyers, analysts, consultants and developers of technological equipment.
Full content of this issue you can read here
The full version of the article can be read in our printed issue, also you can subscribe to the web-version of the magazine

Materials provided by NIKKEN SEKKEI. Text by Maryana Krylova