Terracotta Tower of Guangzhou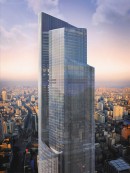 The Council on Tall Buildings and Urban Habitat (CTBUH) has certified the completion of Guangzhou CTF Finance Centre, located within the burgeoning Zhujiang New Town business district. At 530 metres it is the tallest building in Guangzhou, second tallest in China, and fifth tallest worldwide. According to the CTBUH the building was developed by New World Development Company and designed by Kohn Pedersen Fox Associates (KPF), this supertall skyscraper rounds out a trio of Guangzhou's tallest structures, including Guangzhou International Finance Center and Canton Tower, all centred around Huacheng Square, the city's premier urban park and the central axis of Zhujiang New Town. Below, a subterranean retail concourse connects the mixed-use skyscraper with transport interchanges, directly integrating the project into the city and the wider Pearl River Delta region.
The mixed-use programming of Guangzhou CTF is reflected in its sculpted form, incorporating setbacks at four major transition points coinciding with shifts from office to residential programming, residential to hotel, hotel to crown, and crown to sky. Each setback is aligned to correspond with varying heights of nearby buildings and features verdant outdoor terraces high above the cityscape, offering sightlines to the horizon in all directions.
The tower's elevation is defined by a series of subtle terra cotta mullions running the full length of its height, accentuating its verticality. The material selection cleverly references both Chinese architectural traditions and early skyscraper design, while also providing environmental benefits in the form of reduced embodied energy, corrosion-resistance, and sun shading. It is the tallest application of terra cotta in the world.
The building adopts a megacolumn outrigger core system to achieve its spectacular height. A square core together with eight concrete megacolumns provides primary structural support, while four levels of steel outriggers and six sets of double-layer belt trusses provide additional lateral stability.
As the tallest building to complete in 2016, Guangzhou CTF highlights a year in which China continued its unprecedented vertical expansion, accounting for 66% of all 200-metre-plus buildings completed over the last year.
Kohn Pedersen Fox Associates