The Bank on the Silicon Island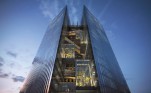 One of the major architectural firms intensively working in Asia - Aedas is implementing an impressive project in Taiwan, the main purpose of which is the headquarters of a large local bank. The Taichung Commercial Bank Headquarters is located in the business center of Taichung and is a 200-meter tower, which includes both the head office of Taichung Commercial Bank and the rooms and associated amenities of a luxury business hotel. It is noteworthy that almost immediately after the presentation to the general public, the Aedas-designed Commercial Bank Headquarters project won the Tall Buildings category at MIPIM/The Architectural Review Future Project Awards 2018.
Taichung (translated from Chinese as "mid-Taiwan") is a special municipality located in the central part of the island. Most of the tourists visiting Taiwan go to see the sights of Taipei or Kaohsiung, leave out of account the fact that the best of them are concentrated in Taichung. The city which was called "Kyoto of Formosa" - here you can see ancient Buddhist temples, picturesque landscapes of mountains, the stunning lake of the Sun and the Moon (Ziyue), parks and natural recreation areas, historical monuments and beautiful examples of modern architecture.
Founded by Chinese immigrants who arrived on the island from the mainland in 1721, the city was formed during the Japanese occupation and became a major economic and cultural center.
Full content of this issue you can read here
The full version of the article can be read in our printed issue, also you can subscribe to the web-version of the magazine

Materials provided by Aedas