The Footsteps of Transformers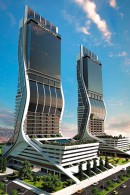 Thanks to the company Folkart Yapı Construction, Izmir, the third largest city in Turkey added a new tourist attraction..
These new twin towers called the Folkart Towers Izmir are 200 meters high and have 40 storeys. They became 3rd tallest building in Turkey and the tallest buildings in Turkey outside of the mega Istanbul city. Furthermore, once completed, they have become the 5th tallest twin towers in Europe!
The twin towers have an interesting and unusual shape at its base and middle sections. The towers distinctive design prompted one graphic artist to create the below graphic for the project that shows the towers like the legs of the humanoid robots in the famous blockbuster Hollywood Transformers movie. Some people are even calling this the Transformers building in Turkey!
This twin Folkart Towers Izmir project is a 150 million dollar investment and mixed used real estate development project which has over a 27.000 m2 area of land. It houses shopping centers, sports complexes, offices and luxury residences. The luxury residencies of Folkart Towers comprise of 1, 2, 3 and 4 bedroom apartments with prices starting from 196 thousand US dollars.
Folkart Construction