The Second Wind of Megacities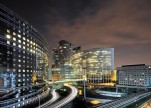 Recent years rapid urbanization tended to the fact that nearly main emphasis in construction of new facilities and developments of existing cities is given to the transportation planning and processing. Against the backdrop of circumstances, when time is the most precious resource on earth, achieving the maximum possible speed of transportation between objects both in everyday life and on a global scale has become an important challenge for architects and city planners all around the world. Such phenomenon, as a multimodal transportation hub has proven to be the most optimized way out of this situation.
A skyscraper vertical structure can join the city transportation system on any levels by using underground railway stations as a foundation for support structures or by providing direct connection with major transport hubs (airports) by means of helicopter pads arranged on top floors of buildings. Global transportation systems united with city forming dominants ensure the most effective integration of a new high-rise structure with the existing city planning grid. This solution ensures economic attractiveness of a project for investors, social stability and in the long term will allow citizens switching over to public transportation system. The latter will improve ecologic situation in metropolises.
There are several examples of implemented projects of high-rise transport interchange hubs that undoubtedly proved their efficiency and reliability. The Shard skyscraper unbelievably popular around the world is located in London in close vicinity to London Bridge Station, an overground railway station, and the area from the east and west sides is enveloped by two subway lines. That is why Renzo Piano, project architect, paid special attention to public space arrangement on the ground level since it was necessary to provide unhampered access for visitors and habitants of the building to all existing transport systems. The best solution was a spacious podium that united the architecturally iconic building with all objects of the city infrastructure in the district and made access to the Thames embankment comfortable and well equipped. One of the most difficult parts of the construction process was that the pile foundation was located in the area of peculiar geological formation called London Clay. Its peculiarity is the predominance of clay and high concentration of fossils. Besides, there were outlets of the local subway line ventilation system in this area. Based on the given conditions architects worked out a three-level foundation system capable of resisting all loads applied to a 306-meter skyscraper and meeting the city needs in a new multi-use transport interchange hub.
Full content of this issue you can read here
The full version of the article can be read in our printed issue, also you can subscribe to the web-version of the magazine

Text by MARYANA KRYLOVA