The Tallest in Africa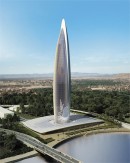 Construction work is set to start on a skyscraper, which, once complete, will be the tallest building in both Morocco and the whole of Africa. Topping out at 250 meters (820 feet), the building, which originally name was 'Bank of Africa Tower' will contain a luxury hotel and apartments as well as high-end offices. Meanwhile, a viewing terrace is planned for the very top of the tower. The building has been designed by architects Rafael de la-Hoz and Hakim Benjelloun.
BESIX, a multidisciplinary construction firm, were selected to complete the project, which is being developed by O TOWER, a subsidiary of Financecom group. Rafael de la-Hoz and Hakim Benjelloun's design will be certified LEED Gold and HQE for compliance with the highest international environmental quality standards. BESIX's engineering department has also outlined a series of technological innovations that will ensure a state-of-the-art building.
The tower, which was recently renamed in honor of the current monarch of the country - Mohammed VI, will be an emblematic building for the country. 'I am proud to see BESIX participating in its construction in Morocco, a kingdom in which it has been a pleasure to work in recent years.' says Rik Vandenberghe, CEO of BESIX group. The Mohammed VI Tower will form the centerpiece of Rabat's Bouregreg Valley development project — is a part of a larger masterplan that comprises the Zaha Hadid-designed 'Grand-Théatre-de-Rabat'.
Construction works have already begun and the project scheduled to complete by the end of May 2022. Since 1973, the tallest skyscraper in Africa has been Johannesburg's Carlton Centre, which stands 223 metres (732 ft) tall.The project is expected to complete by the end of May 2022.
Designboom