The Tallest in Tokyo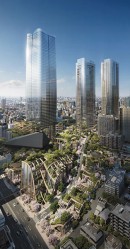 Mori Building recently held a groundbreaking ceremony of Japan's tallest building – the skyscraper in Tokyo designed by Pelli Clarke Pelli Architects.
The building is one of three skyscrapers being designed by Pelli Clarke Pelli Architects for developer Mori as part of the Toranomon-Azabudai district in central Tokyo, where Heatherwick Studio is designing the public realm. Planned to be approximately 330 metres high, the main tower would be around 30 metres taller than the Abeno Harukas skyscraper in Osaka – currently Japan's tallest building.
"Out of our three projects on the site, the main tower is perhaps the most visual on the skyline," said Fred Clarke co-founder and senior design principal of Pelli Clarke Pelli Architects. "It is the first thing visitors will see upon arrival in Tokyo and is the tallest building in all of Japan," he told.
Another skyscraper being built on the site, the 263-metre-tall west tower, is set to become the second tallest building in the city.
The new district is located near the Tokyo Tower in the Minato ward, with the trio of skyscrapers designed to complement the 1950s communications and observation tower. In total the new district will contain 860,400 square-metres of building space, which will be occupied by offices, apartments, shops, a hotel, gallery space and a school.
After completion of construction in 2023, the main tower of Toranomon-Azabudai will overtake Tokyo's tallest building - the 258-meter Toranomon Hills skyscraper, which was also built by Mori Building in 2014.
Pelli Clarke Pelli