The Terraces in Sao Paulo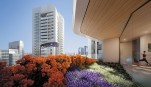 In Brazil, Sao Paulo in full swing is construction of high-rise residential complex EZ Parque da Cidade. The design of the complex clearly shows a tribute to the heritage of the country's architectural genius Oscar Niemeyer and the traditions of his "Baroque" poetic modernism - a bright recognizable style based on the expressiveness of forms and plastic freedom. The project was designed by renown Dutch architectural practice UNStudio specializing in architecture, urban development and "infrastructural" projects. The high-rise complex ordered by the leading Brazilian developer EZTEC is the third and so far, the largest project for the Ben Van Berkel's practice in South America.
Skyscrapers in Brazil in large cities are not uncommon, and the largest number of high-rise buildings built in Rio de Janeiro, São Paulo and Recife. São Paulo is the largest city and cultural capital of Brazil. It attracts travelers with dozens of iconic architectural structures, such as the São Paulo Cathedral, Luz Station, the Museum of Art, the Municipal Market and the Museum of Football, and this is not a complete list of the city's attractions, where colonial-style buildings are harmoniously combined with modern architecture.
Many buildings built several centuries ago have been preserved here, and at the same time, its architecture can be safely called one of the most modern. As early as 1920, the neighborhood of São Paulo was marked on the maps as "unexplored territory inhabited by the Indians," and today it is the largest city in South America with a population of more than 20 million people. Within the city and its agglomeration, there are more than 1200-1700 buildings with a height of more than 100 meters and 40 000–55 000 high-rise buildings. It is in São Paulo that the highest building of Brazil is located - Mirante do Vale (170 meters, 51 floor). And although the authorities have recently been restricting high-rise buildings, São Paulo occupies 5th place in the world in the number of buildings above 100 meters, letting forward only recognized Asian leaders - Hong Kong, Shanghai, Chongqing and Seoul.
Full content of this issue you can read here
The full version of the article can be read in our printed issue, also you can subscribe to the web-version of the magazine

Materials provided by UNSudio