Timber "Ribbons" in the Land Down Under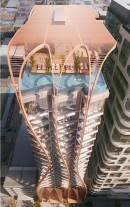 Brisbane developer Aria Property Group has lodged its second residential development application within a month, in a sign of confidence for the Brisbane apartment market. Aria has put forth a proposal for an ambitious 128-apartment mixed-use tower at 66 Hope Street with the Brisbane City Council.
The developer has tapped Koichi Takada Architects to design the tower, which is located on the doorstep of Brisbane's cultural and performing arts precinct. In a tentative lending market, the developer has tailored the offering to owner-occupiers, with three- and four-bedroom apartments, an open-air rooftop and plenty of communal open space.
Aria development director Michael Hurley said Brisbane had experienced a flight to quality as the market weakened. "If you compete on price, you are going to be doing some pretty bad stuff, but if you are focusing on quality, that will allow you to stand out," Hurley said. "If you compete on price you are going to be doing some pretty bad stuff, but if you are focusing on quality, that will allow you to stand out."
A four-story podium at street level will house an "activated" gallery space, designed to function as a display for changing art pieces from local museums. The site's double-height entry will blend retail and lobby space as a contribution to the public realm, Hurley said. "The arts precinct is embraced through the building's ground floor podium that will activate public engagement."
Aria Property Group