Williamsburg's Vivid Ring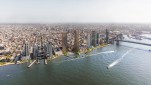 The Brooklyn waterfront is continually evolving. What was once a soft shoreline of wetlands, marshes, shallows, beaches, and tidal flats, is now a series of elevated piers, bulkheads and physical barriers, compromising the relationship between water and city. Inspired by the opportunity to create a living waterfront, BIG's River Street Waterfront Master Plan vision, in collaboration with Two Trees Management and James Corner Field Operations, seeks to enhance connectivity of the public waterfront, restore natural habitats, elevate the standard for urban waterfront resiliency, and transform the way New Yorkers interact with the East River.
The River Street Master Plan intends to complete the continuous public waterfront in Brooklyn that stretches from Bushwick Inlet Park to Domino Park, addressing a major missing link in the public route from Williamsburg to Greenpoint. Located at an important junction where Metropolitan Avenue terminates at the East River, the Master Plan extends the urban connection from the city grid out toward the water, encouraging people to explore the ecological park.
If you move towards Manhattan along Metropolitan Avenue, the street that passes through North Brooklyn, at the end you will be at a dead end: a fence from the netting will block access to the embankment. While working on the BIG U project, the architects from Bjarke Ingels Group identified the most important problems of the area: the desolation of coastal zones, the criminal situation in the dark, the unorganized movement of cyclists and the lack of green public areas. But now the empty land behind the fence can be transformed into a new park.
Full content of this issue you can read here
The full version of the article can be read in our printed issue, also you can subscribe to the web-version of the magazine

Materials provided by BIG (Bjarke Ingels Group)
Photo: © James Corner/Field Operations/BIG-Bjarke Ingels Group/courtesy Two Trees Management