Wood in High-Rise Construction Worldwide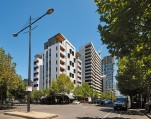 In recent decades the development and sophistication of construction technologies generated a wide range of innovations that have considerably changed the proportions of conventional construction practices applied along with their higher-end analogues. 3D printing invention and practical application in construction have altered all traditional notions of ways to construct buildings. Modern construction methods developed with account of innovative approaches were based on using the most essential materials such as wood and brick. Advanced high-rise construction focused on various wooden structures has turned into a noticeable trend that requires careful examination. Wood as a prospective material for the construction of mixed-use towers has been very popular in futuristic projects for two decades now. Besides, for the recent five years several high-rise "wooden" projects have been announced that will be built in Canada, Austria, Norway, India, Singapore and France, and the number of floors in the planned towers keeps increasing. Studying the peculiar features of wood popularity with account of new opportunities offered by innovative wooden structures is an acute research task set before the author of this review.
Certain engineering developments of recent times have led to unbelievable achievements in wooden construction and some of wooden structures have become more robust, safer and more cost-efficient than steel ones. Very often conventional wooden beams are replaced with glued wooden panels featuring high strength properties. Design engineers select such structures due to their fire resistance level, which is higher than that of metal analogues. In addition, wood production is more cost-effective for countries traditionally focused on wooden construction. In these cases wood as a basic construction material used also for high-rise construction purposes becomes more advantageous in terms of many parameters than conventional steel and concrete.
Over the recent years there is an increasingly rapid development of technologies affecting various aspects of our daily life. The rate of changes and wide distribution of innovations impress so much that gradually one starts perceiving them as a matter of course and stops being astonished at all. Architecture and construction are not an exception here. A gap between the language of art, structural methods of the old architectural tradition and new expressive methods of modernism architecture and further innovations of contemporary times is steadily increasing year by year. It is even more interesting to emphasize conscious return to the roots, to original materials and images perceived in a different light within the current architectural process. Such an appeal to tradition that has turned into a full-fledged trend of the world architecture practice in the recent years is seen in the use of different kinds of wooden structures.
Full content of this issue you can read here
The full version of the article can be read in our printed issue, also you can subscribe to the web-version of the magazine

Text by Marianna Maevskaya, contributing scientist at the Research Institute for Theory and History of Architecture and Urban Development (NIITIAG)