Zeitgeist: Tall Trends in Retrospect of 2018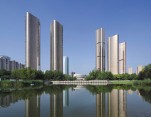 The 2018 CTBUH Tall Building Year in Review and Tall Buildings in Numbers data analysis report found that 143 buildings of 200 meters' or greater height were completed in 2018, down by four from the all-time record of 147 in 2017. The year also saw 18 completed "supertalls" (buildings of at least 300 meters' height), the largest number ever. The report covers other statistical highlights of 2018 and predicts completions for 2019.
The astronomical growth in tall building construction observed over the past decade continued in 2018, though the total number of completed buildings of 200 meters' or greater height leveled off at 143 (see Figure 1), after hitting an all-time record of 147 in 2017. The total number of 200-meter-and higher buildings in the world is now 1,478, a 141 percent increase from 614, in 2010.
The total sum of heights of all completions in 2018 was 35,246 meters. This is down slightly from the all-time high of 35,849 in 2017, but it's still an impressive figure – if laid end-to end, these buildings would exceed the length of Manhattan Island, which is about 21.6 kilometers long. The tallest building to complete in 2018 was the 528-meter China Zun in Beijing (see Figure 2). It is the fourth year in a row in which the tallest building to complete in that year is in China.
Key Worldwide Market Snapshots of 2018 Asia (Not including Middle East) With 109 buildings, representing 76 percent of the total, Asia remained at the top of the rankings in 2018, recording slightly fewer than its 2017 total of 113 buildings of at least 200 meters in height (see Figure 3).
For the 23rd year in a row, China has maintained its reign as the most prolific country when it comes to the construction of 200-meter-plus tall buildings, with 88 completions in 2018, for 61.5 percent of the total. This is a record for China, exceeds last year's figure by eight, and represents an even greater proportion of the global total than the 2017 figure of 54.4 percent. China's previous record was set in 2016, with 86 buildings of 200 meters or higher. Second place was again held by the United States, with 13 completions, up from 10 in 2017 (see Figure 4). And once again, outdoing its own record from last year, Shenzhen, China, recorded 14 completions, making this the third year in a row in which the city completed the world's largest number of 200-meter-plus completions, and comprising nearly 10 percent of the global total. In addition to first-place Shenzhen, Beijing and Shenyang, tied for third with eight completions, and Nanning, with seven completions in sixth place, are in China.
Full content of this issue you can read here
The full version of the article can be read in our printed issue, also you can subscribe to the web-version of the magazine

Materials courtesy of CTBUH