Atrium - Verticality Linking the Towers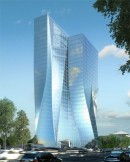 The new Central Bank of Azerbaijan is generated at the Heydar Aliyev Prospect in Baku according to the design of the Viennese architectural studio Coop Himmelb(l)au. It was the winning project of an international competition in 2008 not only due to its spectacular shape but also because it perfectly met the requirements of sustainability and economy. The two office towers of the new Central Bank of Azerbaijan, rising up to 141 meters, have a polygonal shape with a sculptural twist, connected by a vertical and transparent atrium.

Through this geometrical transformation the classical double slab typology is rendered more efficient and offers numerous advantages:
- Differentiated office spaces in floor plan development and views
- Direct connection of both parts of the tower through the atrium
- Dynamic shape of the atrium space between the tower slabs acting as a communication forum with informal meeting spaces and short connections between different functional areas of the two towers.
- A basis for optimizing the full benefits of sustainable energy concepts (solar gain, passive sun protection, natural ventilation for cooling and heating, natural daylighting)

The atrium, stretching over the full height of the towers, functions like a "Vertical City".

Numerous connecting platforms inscribed between the towers provide larger floor plates by connecting space functionally across the atrium, and divide the atrium horizontally in several sections, like urban neighbourhoods. These Interchange Platforms and meeting lounges are oriented westward towards the view to the Baku skyline. Numerous "short circuit" stairs and ramps connect some of the office floor levels across the atrium, creating spaces and circulation patterns similar to streets and passages of a city. Additionally the atrium contains vertically connected hanging gardens and a daylight reflecting core, bringing light and green parks into the Vertical City. This new typology enables a lively internal communication despite the big dimensions of the building.

The facade of the towers is composed of prefabricated, floor-tofloor curtain wall elements. The continuous glass surface is achieved by a cold bended outer glass layer, supporting the visual effect of the building's rotated geometry. Utilizing the newest closed-cavity system, it saves energy and reduces maintenance expenses while providing occupant controlled ventilation. This facade will be equipped with motorized sun blinds and popout window elements for ventilation and smoke extraction. A facade integrated LED lightning system adds an additional dimension to the building's nighttime impression.
Coop Himmelb(l)au