Carrier - 110 Years of Innovation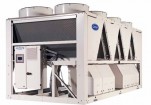 Several hundred units were supplied, mounted and commissioned in Russia since the start of Carrier Aquasnap aircooled chillers manufacturing. Currently they are operated at many commercial, public and industrial objects with success. On a constant basis Carrier company monitors the industry-related market trends and customers' demands. Researches taken several years and resulted in Aquasnap updated series are based on modernized models of single block chillers.

Aquasnap 30RB refrigeration machine series was enlarged with new models. The capacity range is within 160 - 529 kW provided by twelve standard sizes.

To assure the best efficiency and 1 kW cold cost indicators, two chiller designs are available in the new line:
• Aquasnap 30RBM model is compact all-in-one solution, mostly intended for operation at full load with minimum investments for equipment.
• Aquasnap Greenspeed® 30RBP model is developed and optimized for operation at variable loads assuring high efficiency indicators at partial loads (ESEER/IPLV).

Aquasnap chillers of new generation were developed to satisfy the existing and potential requirements in terms of ecological, efficiency and operational aspects.
Full content of this issue you can read here
The full version of the article can be read in our printed issue, also you can subscribe to the web-version of the magazine

Materials provided by AHI Carrier Fzc