Between Sky and …Water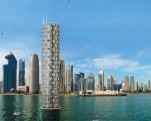 The fact that most of skyscrapers residents may admire the stunning views from the dizzying heights is a matter of course, but just in the case, if the view is not covered by the other high-rise buildings in the same area. But being able to see from the window of skyscraper life activities of the inhabitants of the deep sea is still unique. Luca Curci architects studio presents the Vertical City project, the proposal for a vertical city-building settled in the water.

The project combines sustainability with population density and it aims to build up a zero-energy city-building. The project combines sustainability with population density and it aims to build up a zero-energy city-building.

Starting from the analysis of the contemporary skyscraper, conceived as a compact element, smooth and alienated from the surrounding space, the project has re-interpreted it in an opened structure, equipped with green areas on each level, natural light and ventilation. This new interpretation allows its residents to get into a healthier life-style, in connection with natural elements, re-thinking the traditional concept of community and society.

The building's structure is based on a modular structural prefabricated element, which is repeatable horizontally as well as vertically. The singular shape of the structural element creates a 3D network, which sustains every single floor.

The structure is surrounded by a membrane of photovoltaic glasses which provide electricity to the whole building and make it energy-independent, providing further energy for the buildings on the mainland too. The city-building is completely perforated to permit the circulation of air and light on each level, hosting green-areas and vertical gardens. Green zones are spread all over the tower, while meeting and social areas are thought for the community life.

The city-building consists of 10 modular layers overlapping. It reaches the height of 750 meters, with a total volume of 3.750.000 cubic meters, able to host up to 25.000 people, with a green area of over 200.000 square meters, including the public garden square at the top of the building. Every modular and repeatable layer is high 72 meters and has an overall diameter of 155 meters, of which 120 meters of empty space inside the building.
Full content of this issue you can read here
The full version of the article can be read in our printed issue, also you can subscribe to the web-version of the magazine

Materials provided by Luca Curci Architects