53W53 Closer to Realization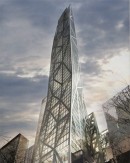 The New York office of the international real estate firm Hines announced this month that it has closed on the purchases of air rights necessary to build 53W53, a luxury residential tower located next to MoMA. The project has been designed by Jean Nouvel with interiors by Thierry Despont.

The project partnership also closed on an $860m construction loan and finalized a guaranteed maximum price (GMP) contract with Lend Lease, making construction of the project imminent.

The Corcoran Sunshine Marketing Group has been engaged to market the project and a sales gallery on Fifth Avenue will open in early 2015.

53W53 will span the width of the block from 53rd to 54th Streets. The 1,050ft tall, 82-storey tower will house 140 luxury residences and 28 serviced apartments, and offer an extensive menu of luxury amenities.

The new tower will also raise high above a 39,000 sq ft expansion gallery and public space for MoMA on the lower floors.

"More than a decade of planning has gone into setting the stage for this architectural masterpiece. The building's singular elegance will be valued by future residents and treasured by New Yorkers and visitors as a new international design landmark", commented Hines Senior Managing Director Tommy Craig.

Hines will partner on the project with Goldman Sachs. The partnership has entered into a joint venture agreement and equity partnership with Pontiac Land Group, a Singapore-based real estate developer and investor.
Ateliers Jean Nouvel