Main
Maintenance
Facade Maintenance Systems – Essential Attribute of Modern Architecture
Facade Maintenance Systems – Essential Attribute of Modern Architecture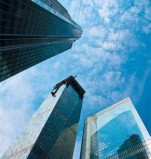 Facade Maintenance System (FMS), also known as Building Maintenance Units (BMU) are widely used throughout the world to repair and keep clean the facades of high-rise, medium and low-rise buildings. This is not only convenient, because the FMS allows looking perfect even the most complex configuration buildings, and also rather profitable – these systems pay off in the first years of operation, and they are designed for a lifetime service. Naturally, in such complex objects like are skyscrapers works only high-technology equipment, both during construction and service stages of already occupied building. It's fast, easy and safe.

German company GEDA Dechentreiter GmbH is one of the world's leading manufacturers of the lifting equipment. Over its 80-year history, the firm rightfully earned a reputation of expert manufacturer of safe, high-quality lifting equipment. In 2012 and 2013, the company has won the tender for supply of equipment for two projects located in the MIBC Moscow-City: Eurasia and OKO towers. For each entity the units designed individually, these machines are unique, as are the skyscrapers. The system is installed on the roof and moved on rail tracks. To store the BMU on the building is provided a special parking space, which is also used as a drop-off zone for personnel. Parking space allows visually to «hide» the equipment on the roof and do not affect on project architectural concept.

Eurasia Tower
This grandiose building even for European standards, is designed by Swanke Hayden Connell Architects, the developer of skyscraper is Techinvest CJSC. At the moment, the Eurasia Tower construction is fully completed, and now is the final stage enclosing structures installation. Partly the glazing works on the façade are produced via GEDA-FBA F-SO-3-S system. The unit is located on the building roof at the height of 310 m. Lifting speed of the cradle 8 m/min, and the carrying capacity of the cradle is 240 kg, the machine is equipped with an extra winch for installation of glazed windows, and its load capacity is 650 kg. Long reach of the machine is 19 m.

Despite the high altitude performance, the device works perfectly even at a low temperature (operating mode up to –20°C), which is really necessary for Russian climatic conditions. As for the Eurasia tower, except that there were required device for lifting at the 310- meter height, the main challenge of the building geometry was necking at the 51 level. In fact, the facade has two different vertical planes. To solve this problem the machine was equipped with telescopic boom with reach of 19m and the special mounting facade system - the soft rope system. Also on the roof there are high parapets, which bypass became possible using of the telescopic mast machine.
Full content of this issue you can read here
The full version of the article can be read in our printed issue, also you can subscribe to the web-version of the magazine

Text YELENA GOLUBEVA, photos provided by GEDA RUS