Ssiger International Plaza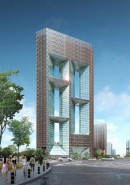 One of the most exciting looking projects presently rising in the People's Republic of China is the Ssiger International Plaza Phase II situated in Cixi City.
The fascinating design from Skidmore, Owings and Merrill boasts diagonal facades with vertical voids between the tower to reduce wind loading and avoid the stresses that a pure slab block would experience. It also opens the building up so that what would otherwise be deeply situated interior floor plates actually have double aspect views. The result is effectively, for two thirds of the building anyway, three towers connected by sky bridges.
Decorating the exterior will be copper clad fins that have been especially designed to help reflect the heat that can build up in the area during the summer months. The vertical voids on the other hand have transparent glazing.
Designed to address its civic neighbour by being angled towards the nearby city hall, it will have a height of 208 meters and 56 floors, the project will host a mixture of new apartments and a hotel occupied by the luxury Shangri-La brand. This will combine for a total floor space of approximately 140,000 square meters.
Construction work is already underway on the project, with the foundations having reached an advanced stage and the structure soon to rise visibly above ground.
SOM