Upcycle for Seifert Icon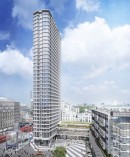 One of London's most infamous landmarks, Centre Point tower at the east end of Oxford Street designed by Richard Seifert in the sixties begins its transformation to a second life today. Rick Mather Architects and Conran and Partners will create 82 exclusive residential apartments from the former office building for property developer Almacantar, The building, including its highly acclaimed concrete fenestration, will undergo a full redevelopment. The changes have now been approved by Camden Council, and are supported by English Heritage and will respect the history of the original building, erected in 1966 on St Giles Circus.

The scheme has been enabled by the London wide relaxation of planning rules for change of use from commercial to residential in 2012. Initially branded as a "White Elephant" by Londoners when completed in 1966, due in part to missing the property cycle, remaining stubbornly tenant-free for decades, its fortune changed for the better in 1995 when it was listed Grade 2.

Martin Clarke, Director World Concrete Forum reinforces the current industry mood: "This is great news about the next phase in the life of Centre Point 50 years on from its construction. The slender smooth iconic building – once so unfairly vilified – joins a growing number of concrete structures benefiting from deep renovation," adding, when asked about the building's suitability for its new residential life, "Centre Point's existing mass concrete walls and floors will ensure thermal comfort and efficiency plus fantastic sound and vibration insulation, perfect for the new apartments."

As well as the tower's rebirth, a series of retail outlets, restaurants, bistros and open space will be built at lower levels and inside the bridge link – a walkway that connects Centre Point Tower to Centre Point House. The bridge link, with its floor to ceiling windows, and an open terrace will overlook New Oxford Street, Oxford Street and St Giles Circus from above ground level. The route to Covent Garden from Centre Point will be pedestrianised, with Centre Point being the natural 'hub' between four of London's most dynamic neighbourhoods: Soho, Covent Garden, Bloomsbury and Fitzrovia.

Gavin Miller, Co-Partner, Rick Mather Architects comments: "We are delighted that the new public square is going ahead, it's the key piece in the jigsaw: a major new square for central London, a destination at the eastern end of Oxford Street and with improved connections to Covent Garden, The British Museum, Tottenham Court and Charing Cross roads."

During construction, the building will be wrapped in artwork prints designed by the global fashion and design company Eley Kishimoto, which will capture a 1960s design and architectural flare. The creation, will take six months to erect and a further six months to take down.

Kathrin Hersel, Development Director, Almacantar, comments: "The start of construction at Centre Point is a pivotal moment for a scheme which has been more than three years in the making. The project will breathe new life into this landmark, giving it a sustainable and exciting future for the benefit of all Londoners and visitors to the capital." Works are expected to finish in the second quarter of 2017.
Rick Mather Architects